Festivals are a time of joy and celebration, and what better way to celebrate than by dressing up in traditional ethnic wear? The top trending traditional outfit for kids during festivals is the timeless-classic lehenga choli.
Kids Lehenga choli is a traditional Indian outfit; consisting of an ethnic skirt (lehenga) and a blouse (choli). Often it is styled with a dupatta (a long scarf draped over the head or shoulders). Lehenga cholis come in various designs, colours, and fabrics and are a favourite among kids during festivals.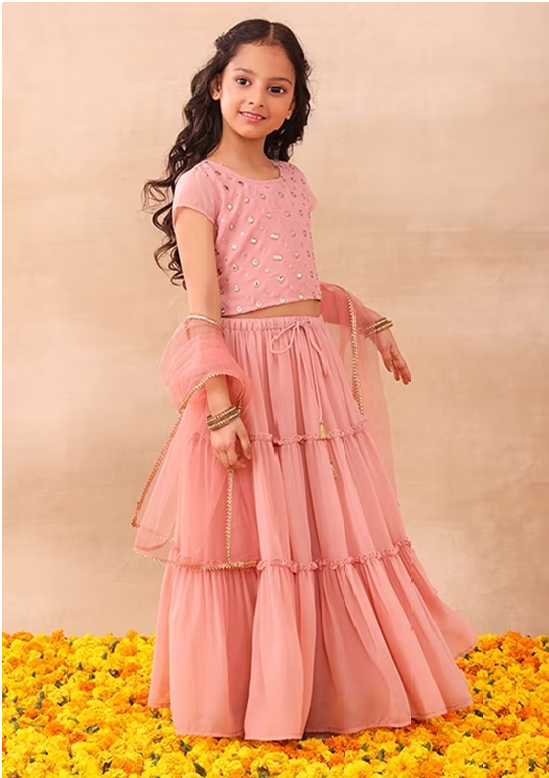 Apart from lehenga cholis, pre-stitched sarees for kids are also gaining popularity for festivals. Pre-stitched sarees are a convenient and comfortable option for kids, as they do not require the complicated draping process that traditional sarees do. They come in various styles, such as ruffled sarees and layered sarees for girls.
A few other trending kids' ethnic wear include fun sharara sets, embroidered kurtas, ethnic jackets with long kurtas, ethnic co-ord sets for girls, and embroidered ready-to-wear sarees.
If you are looking for the latest kids ethnic wear lehenga choli styles, then you are in the right place. Today we will discuss the top 5 most popular styles and designs for kids' lehenga cholis that are perfect for festivals.
1. Printed Lehenga Choli for Kids
Printed lehenga cholis are a popular choice for kids during festivals. They come in various adorable prints, such as floral, geometric, and abstract, and are available in bright and vibrant colours. These lehenga cholis are perfect for kids who want to look stylish and comfortable at the same time.
2. Embroidered Lehenga Choli
Embroidered lehenga cholis for young girls are a classic and timeless festive wear. They feature intricate embroidery work on the skirt, blouse, or dupatta and are usually made with rich fabrics like silk and velvet. Embroidered lehengas are also among the top choices for Kids Eid outfits.
3. Lehenga Choli with Cape
Lehenga cholis with capes are a trendy and modern option for kids during festivals. The cape adds an extra layer to the outfit, giving it an extra drama element (and we all know how much kids love capes and drama!). They come in various styles, such as crop cape, full cape, and half cape, and are available in different fabrics and colours.
4. Kids Lehenga Choli with Ethnic Jacket
Lehenga cholis with jackets are another stylish option for kids during festivals. The jacket can be worn over the blouse, giving it a modern and contemporary look.
5. Ruffled Lehenga Cholis for Kids
Ruffled Lehenga cholis are a fun and playful option for kids during festivals. The ruffles add a whimsical and feminine touch to the outfit, making it perfect for younger kids. They come in various styles, such as ruffled skirts, ruffled blouses, and lehengas with ruffled dupattas.
In addition to the above styles, there are various other options for kids' lehenga cholis online, such as lehenga cholis with peplum blouses, lehenga cholis with off-shoulder blouses, lehenga cholis with asymmetrical hemlines, so on.
When it comes to choosing the right lehenga choli for your kid, there are a few things to keep in mind:
1. Consider the occasion and the weather:
If it is a formal event, you may opt for a more traditional and elegant design, while if it is a casual event, you can go for a more playful and fun design. Similarly, if it is a winter festival, you may want to opt for lehenga cholis with capes or jackets. While for a summer festival, you can go for lighter fabrics like cotton, georgette, and chiffon.
2. Another thing to keep in mind is the lehenga fit.
Make sure the lehenga choli fits your kid properly and is comfortable to wear.
3. Lastly, choose a design and colour your kid likes.
Because let's face it, they'll be the ones wearing the clothes, not you. Unless, of course, you plan on borrowing their clothes when they're not looking. But that's a whole other conversation.
And if they happen to choose something a little- unconventional, just embrace it.